Umbricelli Farro Pasta with Walnut Sauce:
With the expected onslaught of our fair share of snow this weekend, we had the invariable need to bake bread and other various culinary creations as the light fluffy snow fell throughout the day. The kind of day where sweet flavorful aromas abound throughout the house leaving you both relaxed and energized at the same time. Victoria is officially the baker in this house, where as I tend to dominate other aspects of kitchen activities. It was a symphony of collaboration, as a roaring fire flickered and Victoria effortless kneading dough and I processing various sauces with a scientist's flare.  In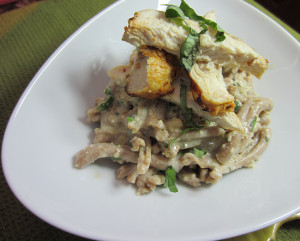 yet another effort to think outside the box, in regards to healthy eating and the complete bending of traditions, we aimed for a Farro-based pasta and unconventional white sauce to go with the home-made egg bread. Farro flour pasta, also made with eggs, is extra hearty and similar in texture to whole wheat pastas. However, it was the grounds walnuts, mixed like a pesto but without much basil leaving it light in color to go with our snow day, that brought redefined meaning to the Balsamella influenced sauce base.
SECRET INGREDIENT: Walnuts
TIP: Texture, texture, texture – don't over process the walnuts
Umbricelli Farro Pasta with Walnut Sauce
Umbricelli Farro pasta (Ritrovo)
Parsley (chopped)
Parmesan
Fresh basil (chopped, for garnish)
Roasted Chicken (optional)
Walnut Sauce
Walnuts (1/2 cup, process with garlic, ¼ cup parmesan, 4 basil leaves, olive oil)
Onion (chopped)
Garlic (chopped)
Butter (4 Tbl)
Flour (4 Tbl)
Milk (2 cups)
Nutmeg
Salt & fresh pepper
Parmesan (1/4 cup)
Truffle oil
In food processor, mix walnuts, garlic, parmesan, basil, olive oil to make thick paste, then set aside. In sauce pan, melt butter and sauté onions and garlic until tender. Add flour and cook to make light roux. Slowly add warm milk, add more if necessary to get sauce consistency, then add nutmeg, salt, pepper, and parmesan. Cook pasta al dente in lightly salted water, then drain and toss with parmesan and fresh parsley. Plate as desired and drizzle truffle oil and garnish to taste.
Züpfe
Züpfe is a type of Swiss sweet bread made from eggs, flour, milk, butter, kirsch, and yeast, braided then brushed with egg wash and bake at 350°F for 45 min.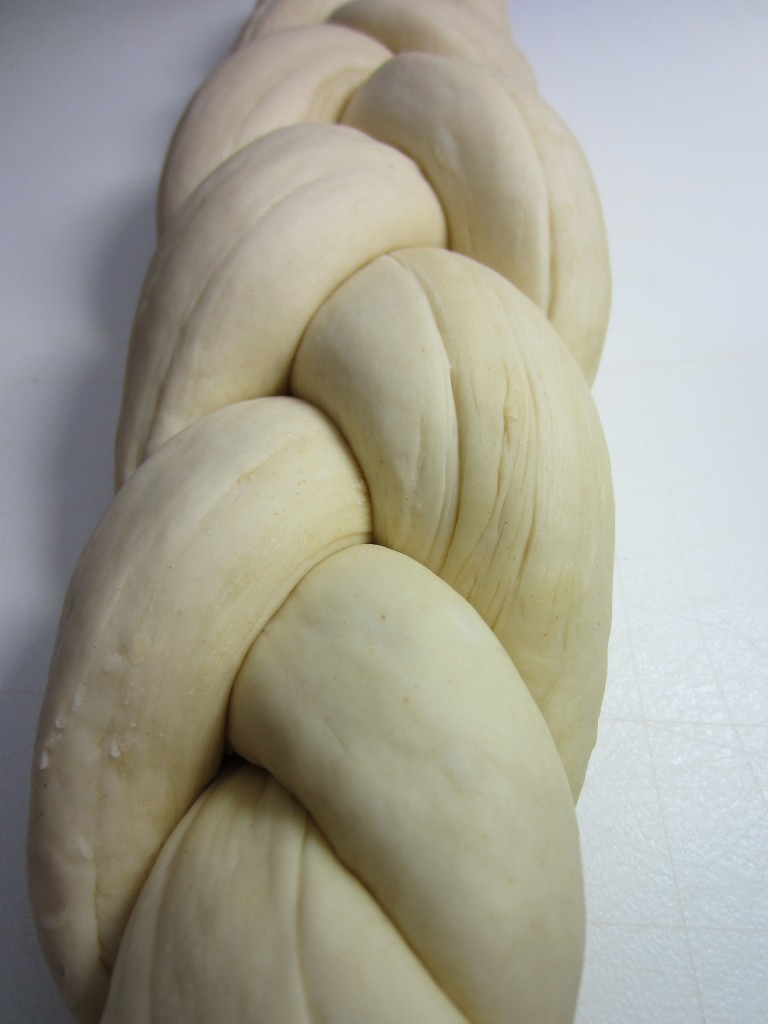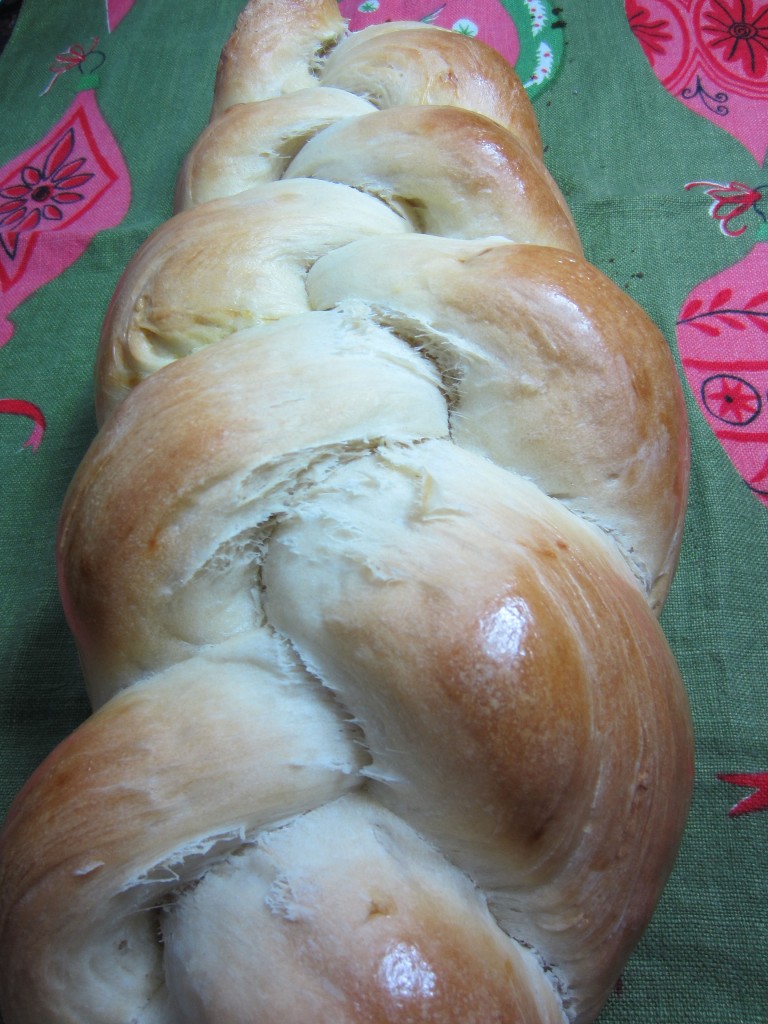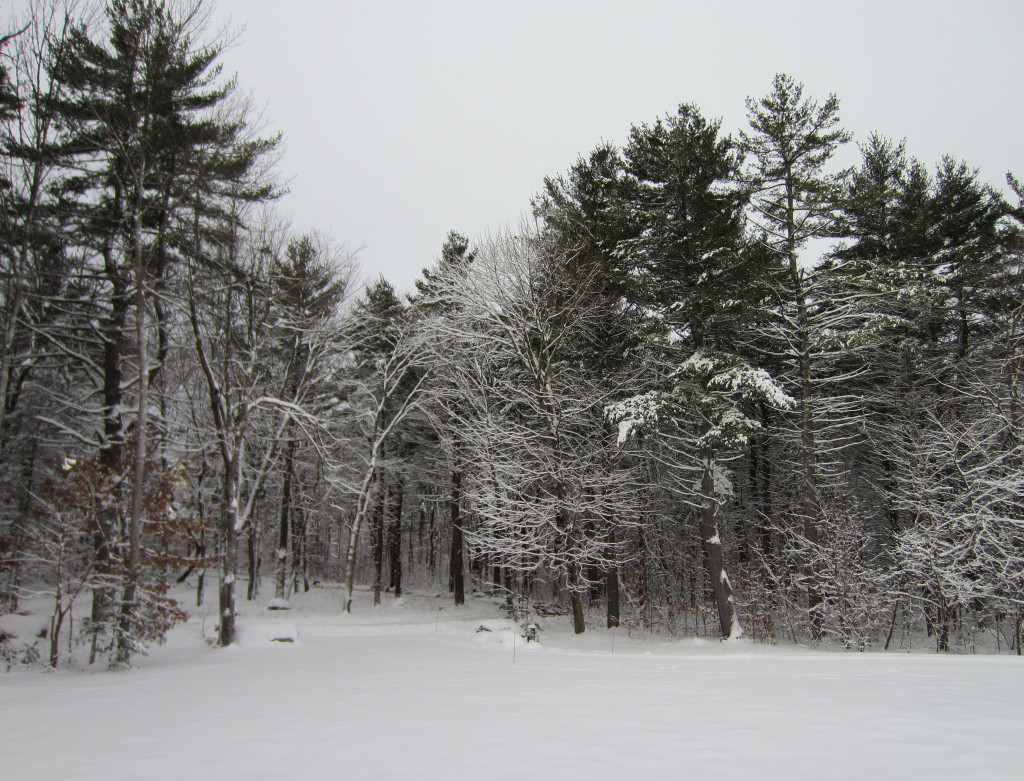 -- Weather When Posted --
Temperature: 81°F;
Humidity: 58%;
Heat Index: 83°F;
Wind Chill: 81°F;
Pressure: 29.99 in.;