Deviled Bacon & Eggs:
Deviled eggs represent that quintessential party dish that exudes evil while being mysteriously wholesome. So – let's add bacon. Our neighbors threw their annual Pig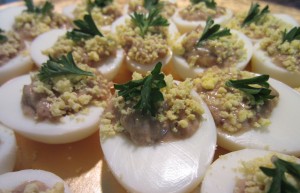 Roast party next door, and V was quick to surmise the need to bring deviled eggs as our neighborly contribution. There's no rule when it comes to deviled eggs and being devilish is what it's all about. We happened about Skillet brand bacon jam awhile back via what used to be Foodzie, and it remains a secret ingredient in many dishes.
SECRET INGREDIENT: Skillet Bacon Jam
Deviled Bacon & Eggs
Eggs
Mayonnaise
Dijon mustard
Raspberry honey mustard
Salt & fresh pepper
Skillet Bacon Spread
Parsley leave garnish
-- Weather When Posted --
Temperature: 41°F;
Humidity: 36%;
Heat Index: 41°F;
Wind Chill: 33°F;
Pressure: 29.66 in.;