Seared Tuna on Spinach Tower with Crayfish Salad & Parsley Oil:
My brother-in-law scowls at the idea of left overs and insists on fresh meal each day. Although we completely agree a freshly prepared dish is superior in many ways, one of my favorite ingredients is the lingering items stocking my large refrigerator and can be
the secret ingredient to many a favorite meal. Like a mad scientist on the discovery of something evil, I will quickly scan the open fridge at the assortment of assets in a combination of solid vision and complete lack of clarity. My eyes quickly catch Middle Eastern lavash bread, leftover creamy crayfish salad and rustic parsley oil I had made of recent. After a short ponder, I grabbed my car keys and bellowed to V who was sunning on the back deck – "Back in a bit. Going to go get some tuna."
I have to confess that I had wanted to make eatable serving towers from looped lavash bread, and this was a perfect vehicle to prop the crayfish and sliced seared tuna.
Seared Tuna on Spinach Tower with Crayfish Salad & Parsley Oil
Crayfish
1 cup green onions, sliced
1 green bell pepper, diced
2 garlic cloves, minced
1-lb crawfish tails, peeled
8-oz cream cheese, softened
4 Tbl diced pimiento
2 teaspoons Creole seasoning
1 Tbl lemon juice
2 Tbl flat-leaf parsley, chopped
Salt & fresh pepper
Parsley Oil
1 cup flat-leaf parsley
1/2  cup extra virgin oil
Salt & fresh pepper
Tuna
½ lb fresh tuna, sushi grade
Sesame seeds, white and black
Salt & fresh pepper
Extra virgin oil
Fresh spinach leaves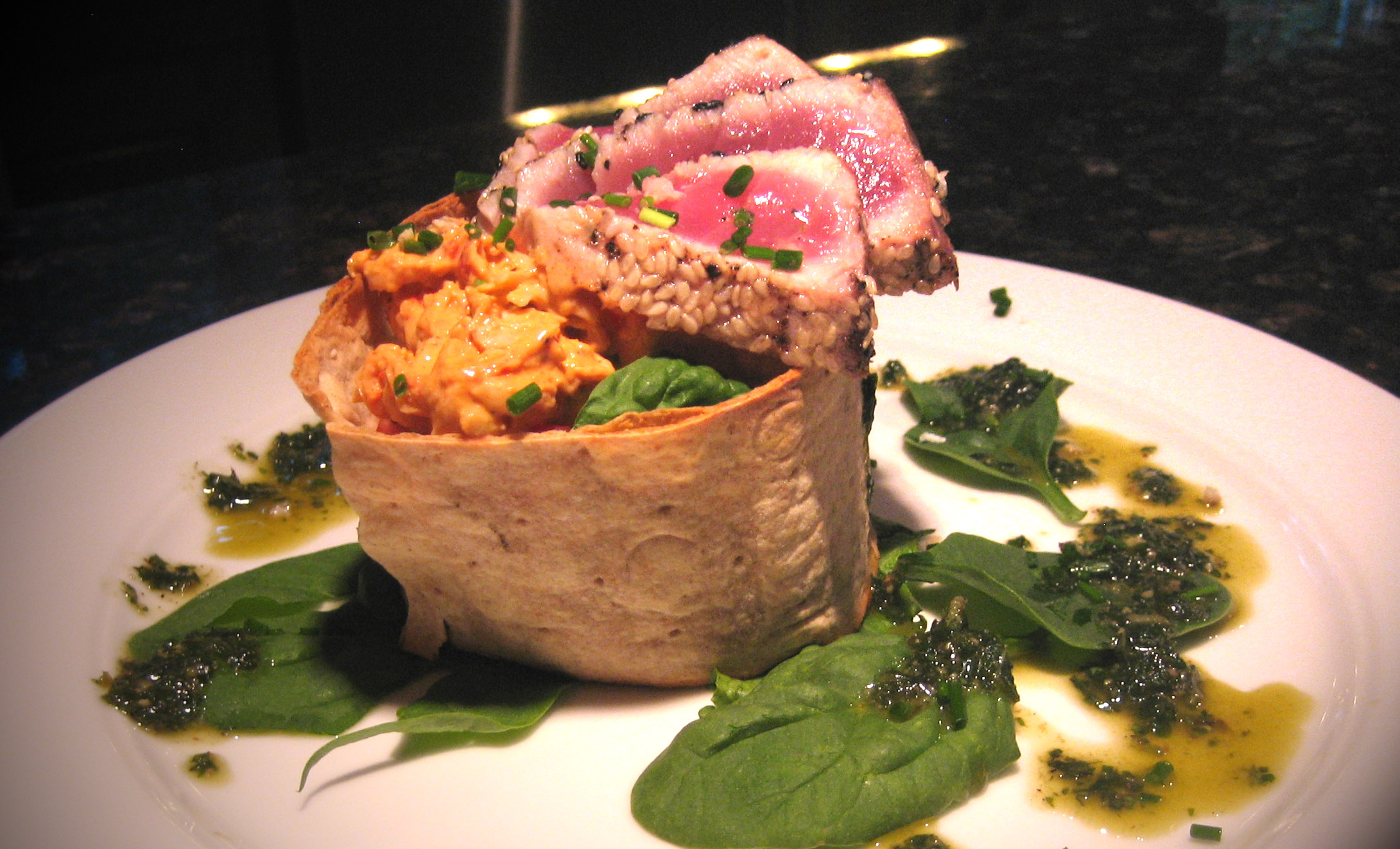 -- Weather When Posted --
Temperature: 39°F;
Humidity: 41%;
Heat Index: 39°F;
Wind Chill: 30°F;
Pressure: 29.67 in.;