Pad Thai with Sugar Snap Peas & Tofu:
Indecision should be more recognized as a disease with its potentially hazardous impact on simple life events. It's been an entertaining year for me to say the least, with a multitude of changes and an equal dose of entirely too much "free-time." That time-off however, which was long overdue having spent the past decade working eighty hour weeks for someone else, has allowed me to search deep into my culinary prowess. I have spent the recent many months relaxing, woodworking, fishing, reading and
gourmet cooking, however I still find myself in the proverbial cross-hairs of constant indecision. Whether deciding what to cook, or the many job opportunities coming to me, or the delusional idea of chucking the business world in search of a farm venture, I'm left wallowing in the dichotomy of both anxiety and chronic relaxation. So what does my beautiful wife present me – a fresh bag of Sugar Snap Peas from Idylwild Farm and a smile of inspiration. It never ceases to amaze me how our brains can shift gears so quickly, like a Grand Prix racer commanding the hairpin bend in Monaco. We can go from overwrought to tranquil with a simple gesture. Rousing Asian dishes like this flavorful Pad Thai, with its many moving parts and fair share of chopping, always inspires me and makes my mind instantly cleansed to procrastinate on life decisions another day.
SECRET INGREDIENT: Tofu tossed in peanut sauce
Pad Thai with Sugar Snap Peas & Tofu
Rice noodles (boiled al dente)
Egg (lightly beaten)
Jumbo Shrimp (halved lengthwise, seasoned with Coriander and Cayenne)
Tofu (cubed, tossed in peanut sauce)
Shallot (thinly sliced)
Sugar snap peas (topped, tailed, and halved)
Carrot (julienne)
Green cabbage (bite sized pieces)
Asparagus (top 3 inches, bite sized pieces)
Scallion (chopped)
Sesame oil
Cilantro
Lime wedges
Peanuts (optional)
Season shrimp and tofu in separate bowls. Whisk all ingredients for Pad Thai sauce and set aside. Sauté shrimp in hot pan with sesame oil until crisp but just undercooked, then set aside. In same pan, fry egg into omelet, then roll onto plate and cut into short ribbons. In same pan, sauté shallot, sugar snaps, and carrot, then set aside. Add noodles to same pan and crisp, adding a small amount of sauce to keep moist. Add shrimp, tofu, and all vegetables to pan, and toss with remaining sauce. Garnish with lime, cilantro, and peanuts.
Pad Thai Sauce
Tamarind paste (2 tsp, dissolved)
Ginger (finely chopped)
Garlic (finely chopped)
Honey (2 Tbl)
Rice vinegar (2 Tbl)
Sake (3 Tbl)
Soy sauce (3 Tbl)
Red chili sauce (to preference)
Sesame oil (3 tsp)
Peanut Sauce
Peanut butter (1/2 cup)
Coconut milk (1/2 cup)
Honey (1/4 cup)
Lime juice (2 Tbl)
Soy sauce (1/4 cup)
Garlic powder
Cayenne
Fish sauce or water (to thin as necessary)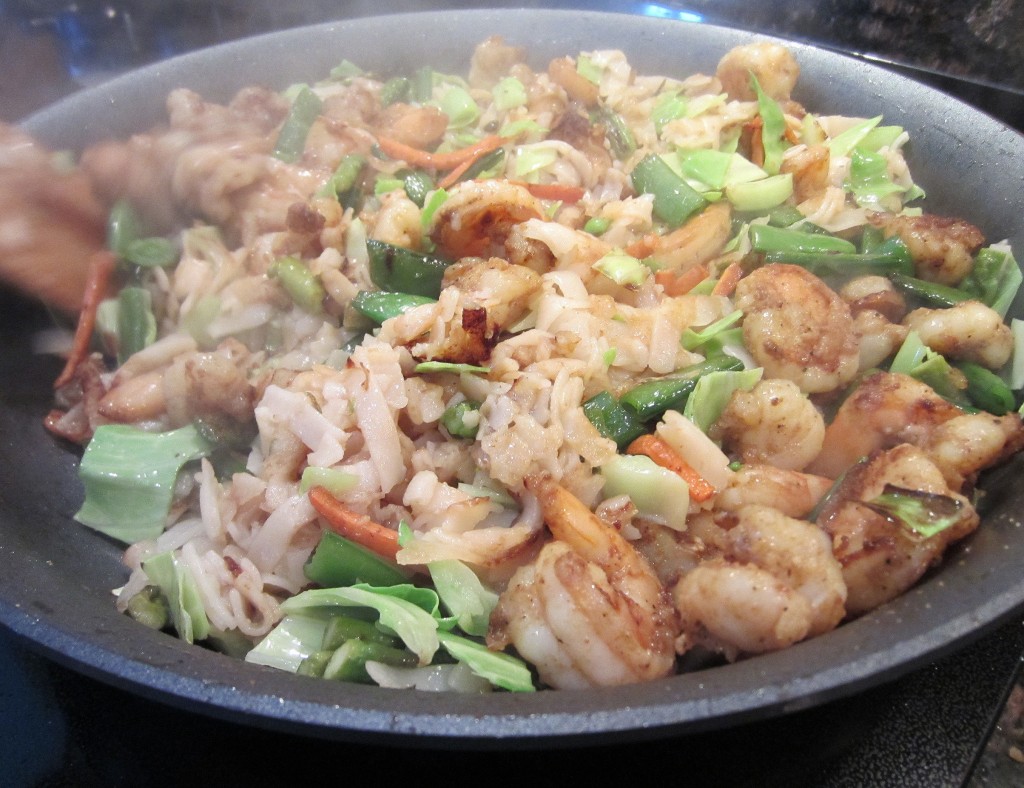 -- Weather When Posted --
Temperature: 81°F;
Humidity: 58%;
Heat Index: 83°F;
Wind Chill: 81°F;
Pressure: 29.99 in.;